Psion Teklogix Workabout MX

© EDV Pulster, Germany - www.pulster.de - info@pulster.de
FAQ - Frequently asked questions
- What is this FAQ about ?
We are talking about the Psion Teklogix handheld "Workabout" with SIBO-system. This is not about the Workabout *PRO* units with Windows Mobile/CE.net-system (please find FAQ Workabout PRO here).
The Workabout non-PRO is often refered as "Workabout MX".
-Where can I find informations about the Psion Teklogix Workabout MX ?
Psion Teklogix provides technical datasheets for Workabout MX (link) and Workabout MX Scanner (link) . Find here a quick user manual (link). And a scan of the User Manual here. For a full programming guide and forther informations about software development, please email us.
Registration is free of charge and you will get access to SDKs etc.
- What variants of the Workabout MX are available ?
| | | | | | |
| --- | --- | --- | --- | --- | --- |
| Product No. | Product Name | Top Ports | Bottom Ports | Keyboard | Data sheet |
| 1820 0002 04 | WA MX Grey | - | - | alpha | WA MX Grey variants |
| 1820 0004 04 | WA MX Grey Numeric | - | - | nummeric | |
| 1820 0018 04 | WA MX Grey BTM | - | RS232 | alpha | |
| 1820 0022 04 | WA MX Grey (IrDA) | IrDA | IrDA | alpha | |
| 1820 0046 04 | WA MX Grey (RS232) | TTL+RS232 | - | alpha | |
| 1820 0048 04 | WA MX Grey (RS232) numeric | TTL+RS232 | - | nummeric | |
| 1820 0058 04 | WA MX Grey (RS232, IrDA) | TTL+RS232 | IrDA | alpha | |
| 1820 0062 04 | WA MX Grey (IrDA, RS232) | TTL+IrDA | RS232 | alpha | |
| 1820 0078 04 | WA MX Grey (BCR) | BCR+RS232 | - | alpha | |
| 1820 0114 04 | WA MX Scanner (IrDA) | Scanner | IrDA | alpha | |
| 1820 0118 04 | WA MX Scanner (RS232) | Scanner | RS232 | alpha | WA MX Laserscanner |
| 1820 0120 04 | WA MX Scanner Numeric RS232 | Scanner | RS232 | nummeric | |
| 1820 0106 04 | WA MX Wand RS232 | Barcode Wand | RS232 | alpha | WA MX Barcode Wand |
| 1820 0102 04 | WA MX Wand IrDA | Barcode Wand | IrDA | alpha | |
| 1820 0151 04 | WA MX RFID-HF Scanner IrDA | RFID + Scanner | IrDA | alpha | WA MX RFID Scanner |
From left to right:
- What is the difference between variants ?
1. Keyboard
Standard is alphanummeric keyboard = full A-Z letters AND numbers.
Besides there is nummeric variant with number keyblock only.
2. Memory
Psion Teklogix released units with 256kb, 1 MB and 2 MB internal memory. Check out what is written left of the display. If it says yellow "MX", it is a 2 MB model. (in opther words: all MX units have a memory of 2 MB as standard). The units with 256kb and 1 MB RAM are end of product life, these are not further supported nor sold. - Please note, once your application is exceeding internal memory, it is not possible to upgrade your unit with RAM. Also SSD-memory cards act not as additional internal RAM, but like a hard-disk. So always buy a MX 2 MB model to be on the save side.
3. Ports on Top and Bottom.
Check your needs below and after find matching Psion product number on table on top.
- What ports are available ?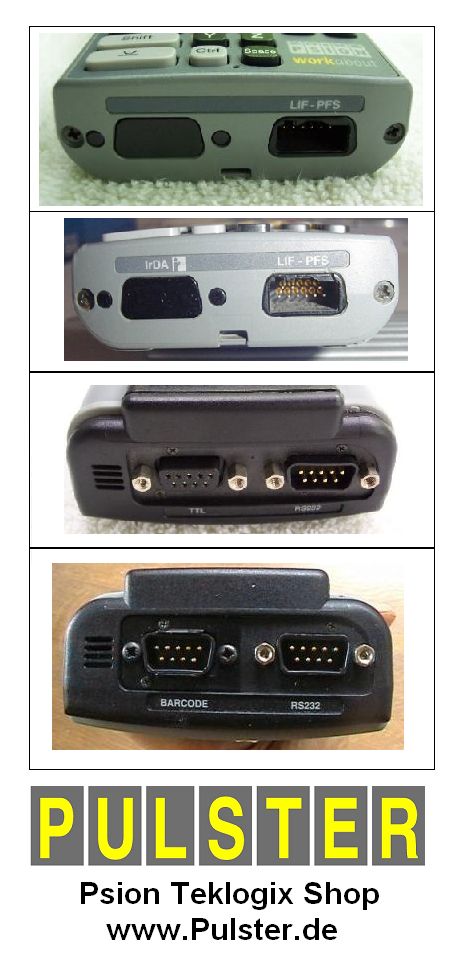 From top to down: (click image to see details):
1. Bottom Port: LIF
2. Bottom Port: Infrared IrDA and LIF
3. Top Port: TTL and RS232
4. Top Port: Barcode and RS232
LIF:
All units have a LIF-port on the bottom right. It is used for connection to a desk charging/docking station, communication link and a power mains (via LIF-adapter).
RS232:
It's the most common port to transfer data to/from a Windows PC (details can be found below in this FAQ). Standard is RS232 port on top of the unit, besides there are special variants with RS232 on bottom and combinations with TTL or BCR.
TTL:
On top of the unit, for various data in/out logging. TTL includes a 5V power supply pin.
BCR:
For attaching a barcode-reader. Some barcode infrared scanners can also be attached on the TTL.
IrDA:
Infrared communication port. Variants with 1x top or 2x IRda top & bottom available.
Besides ports, there are models with fixed, integrated Barcode Wand, Laser Scanner and RFID reader.
- system OS options ?
The Workabout MX runs a Psion proprietary sytem called SIBO. There is no way to change it (WinMobile/CE, Linux does not run). The system language is english and can not be changed. However any third party application can support your local language.
- IP options ?
Workabout MX is IP54 rated, which means Ingress of dust is not entirely prevented, but it must not enter in sufficient quantity to interfere with the satisfactory operation of the equipment; complete protection against contact. Water splashing against the enclosure from any direction shall have no harmful effect.

- battery options ?
You can use two standard AA-Mignon non-recharable or recharable batteries. Please note, both will _not_ be charged and must be removed once empty. The better option is to use recharable NiMH-batteries pack (single batteries will not be charged). While the Workabout is connected with mains power adapter or docking station, the pack will be automatically charged.
| | | | |
| --- | --- | --- | --- |
| Battery | Power | Technology | Info |
| Psion A2802 0005 02 | 1000 mAh | NiCd | end of life |
| Psion A2802 0052 03 | 1600 mAh | NiMH | end of life |
| Psion A2802 0052 04 | 1800 mAh | NiMH | replaced from Pulster OEM |
| Pulster - waakku OEM | 2500 mAh | NiMH | most powerful, available |
- backup battery ?
All Workabout MX variants have a backup battery. It will remain data when main battery is low or replaced. The Workabout MX uses a recharable LiIon coin cell CR1620 (Psion Art.No. A4900 0018). It is accessible in the inside of the top drawer.
- what do I need to start with ?
The Workabout comes with no accessories included. For start working with the unit you need just a pair of AA-batteries. If you deceide to use rechargeable batteries, you should consider buying a charging option.
- charging options ?
1. Charging station (Art.No.: 1801 0068 01):
This station will charge the rechargable battery pack inside the Psion. It will be handled in the best way (quick charge/hold charge). Besides it has a second charging cradle for another battery to charge. The charging station can be upgraded to a docking communication station. Link: Specifications.
2. Battery charger (Art.Nr.: 1802 0010 01):
Can charge a battery externally.
3. LIF-adapter/packed docking holster (Art.No.: 1801 0003 01):
Allows to attach a power mains adapter (Art.Nr.: A1602 0002 01) to the Workabout.
- automotiv options ?
1. Cradles: there is a vehicle interface cradle, which charges your Psion and communicates with attached devices. Psion Art.No. 1801 0018 02 comes with 1 serial port, Art.No. 1801 0016 02 has 3 ports. To connect the cradle to your onboard power, you need a cable set.
2. Vehicle Power Adapter (Art.No.: 1802 0005 01): can be plugged to a docked holster/LIF adapter and supply unit with power.

- stylus options ?
As the display of the Workabout MX is non touch sensitiv, a stylus input is obsolete. Please note, this unit is a data collector in rough environments first hand.
- Communication options ?
You can communicate with serial RS232 or Infrared only. There is no option of WLAN/Wifi, Bluetooth nor any GSM variant.
- scanner options ?
You can buy a Workabout with attached/integrated Laser Scanner on top, see Workabout MX Scanner (link). There are some OEM add-on scanner from third-party-companys, which are not officially supported.
- printer options ?
1. Printer link cable (Art.No. 2500 0006 10) can be attached to docked holster/LIF adapter and provides Centronics printer port.
2. There are different add-on solutions of thermo-printers from OEM vendors.
- memory options ?
The internal memory of 2 MB can not be upgraded. However you can use up to two Memory cards, typ "Solid State Disk" (SSD) to act as "harddrives". There are two types of SSD-cards:
"RAM"-cards work with own backup cell and act like a standard harddisk/memory card and are available in sizes of 128kb, 512kb, 1 MB and 2 MB.
"Flash"-cards are used to host applications, erased files will not provide space until formatted. Avl. sizes 128kb, 256kb, 512kb, 1 MB, 2 MB, 4 MB and 8 MB.
More infos about SSD memory card can be found here: LINK.
There's also a SSD-card reader for PC (Psion Art.No. 1700 0001 0001). Your PC need a PCI slot to connect it.
- protective options ?
To avoid fall down of units, a handstrap is helpful. (Psion Art.No.: A2802 0008 01). It can be easily attached on the mounting holes of the backside of the Workabout.
Protective cases are available for Workabout Standard without Scanner (Psion Art.No.: A2802 0000 0001) and Workabout Laserscanner (Psion Art.No.: A2802 0001 0001).
- software options ?
There is already some small applications ("excel", "word", "clock" etc) pre-installed. An OPL programming invironment is included as well. However the Workbout aims to special applications supported from you solutions-provider.
F.A.Q. - for Workabout MX users:
- My Workabout does not power on ?
First check if battery is charged well (otherwise blinking red LED). Second, check if fuse is in place beneath batteries. Finally try a hard reset, removing batteries and backup cell for about 30 sec. and re-insert it. This returns the unit to factory settings, all datas are lost !
- How to connect Workabout with Windows PC ?
Hardware:
Option 1: Your Workabout has a "RS232" port
Connecting with your PC is simple, just plug a serial cable between Psion and PC and start communication Software. Please note, PC needs to have a serial port (USB is not supported) and the communication cable to use is a so-called "Nullmodem" (a standard 9pin serial cable will not work).
Option 2: your Workabout does NOT have a RS232 port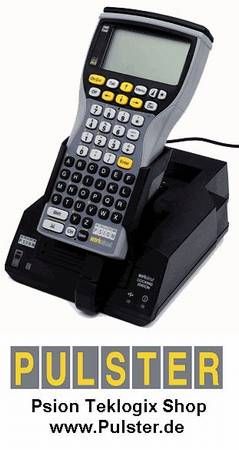 1. You can use a desktop docking station with serial RS232 option (single unit: 1801 0005 10, 4-unit 1801 0022 10). A Docking station consists of Charging station (Art.No.: 1801 0068 01) with an added serial communication modul. Now the Workabout can be connected to any serial port of a PC.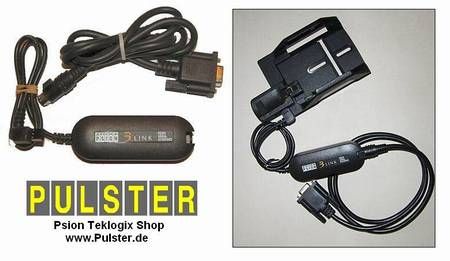 2. You can use a docking holster (Ar.No.: 1801 0003 0002). This holster allows to attach a data-communication cable (Psion Art.No.: 1801007001 together with A2303000402) between Workabout and any serial port of a PC.
Software: Either you use the communication application provided from you solution provider, or you can use the Psion standard application "PsiWin" (Windows Mobile Device Center nor Active Sync is supported). PsiWin Download Link can be found on Pulster Service Section (link).
- I have problems establishing a communication link between Workabout and PC.
Software:
Use latest software version PsiWin 2.3.3. only please: download link. Please un-installed any existing older version before. Some more infos here.
It works with Windows XP, 2000, Vista and Windows 7 32bit variant. For Windows 7 64bit variant please run PsiWin in "XP compatibility mode".
Also make sure that the Virtual PC (XP Mode) COM port setting matched that on the actual PC (Windows 7).

Hardware:
Be sure you use the original communication cable (any standard 9pin serial cable will NOT work). Workabout System configuration should show "CABLE" as communication option (Menue-key/Spec/Remote Link ON). Serial port of your PC should not be shard with other devices (mouse/modem).
Please start with a communication speed of 9600 baud and choose PORT A.
Once the link is established, the PC detect the Psion automatically.
Do not open application COMMS on the Psion, this is not intented for this.
- My Windows PC has no serial port, only USB.
Workabout / PsiWin does not provide any USB solution. What you can do is to use a USB-to-serial-adapter (easily available for c.10 EUR). Installation
is tricky and success can not be garantueed. If your Workabout is equipped with IRda port, you can use Infrared as solutions.
Third, a SSD-card reader on the PC can be used to read datas directly from SSD memory cards.
- My unit is not charging the batteries properly. What to do ?
1. Check type of batteries in the unit: Charging is only possible with a special Psion NiCd/NiMH battery-pack. Two separate rechargeable batteries can not be used charged inside the Psion. Also don't try to recharge non-rechargeable Alkaline cells.
2. Check type of batteries recognized from unit: Please press and hold these 3 buttons: "shift" & "ctrl" & "B". A battery information window should appear and show the type of battery indicated from the Psion. If you have inserted rechargable NiCD/NiMh packs and it is shown Alkaline (non rechargable), backup your datas, then remove batteries + backup cell, do a new start of the unit and check again.
3. Check recharable battery-pack about faults: insert the pack in the second charging slot of a Desktop Charging Station and check Status-LED on front. Red blinking LED indicates faulty pack. In this case, exchanging it with a new one is the best idea.
- Can I upgrade my Workabout Classic to a PRO ?
Software: The Classic MX uses a Psion-proprietary OS system called SIBO. It is not compatible with the Windows OS systems the Workabout PRO uses.
However Teklogix provides a migration kit, which allows to transfer SIBO code to Windows Mobile code. For further details, please register with
TEKNET at www.teklogix.com and download the Migration Kit at Developer Resources.
Hardware: There is a serial end-cap option for the Workabout PRO, which allows to use serial add-ons from the MX, for example add-on printers and data-readers.


© EDV Pulster, Germany - www.pulster.de - info@pulster.de